In the full game of Warblade, there are a maximum of 100 Main Story Levels. There are also 5 Special levels that are accessible through special means. Upon completing level 100, you get to view the End Game Credits and the one-hundred levels loop over, but this time with increased enemy bullets and speed, with the enemies attack patterns flipped horizontally, and some additional player content.
Level Structure
Edit
Level Layout
Edit
All the levels in Warblade (except the 5 Special Levels see below) follow a simple theme. They go as follows:
Level 1 and 2 :: Small Aliens
Level 3 :: Small Aliens and Mother Alien(s)
Level 4 :: Kamikaze or Bonus (alternating each time)
(warp)
(level 1-4 repeat)
Level 25 :: Mid Boss
(level 1-25 repeat)
All the levels fix into this scheme. Every 4 levels repeat the theme until level 25 where you face a mid-boss. Then the whole level pattern repeats again.
In-Level Scripts
Edit
Throughout the game, each level can be categorized by 3 main types.
Kill All - You must kill all the aliens to progress
Hit and Run - The aliens will attack you but then leave, allowing you to progress.
Kill and Run - Some aliens will hit and run whilst some need to be killed (both of the above 2)
The majority of the game levels are the Kill All, making it harder to progress further with an insufficient weapon and/or lives. The Bonus levels are typically Hit & Run as the challenge is to defeat as many as you can.
Alternate Level/Enemy overview by Suseuser: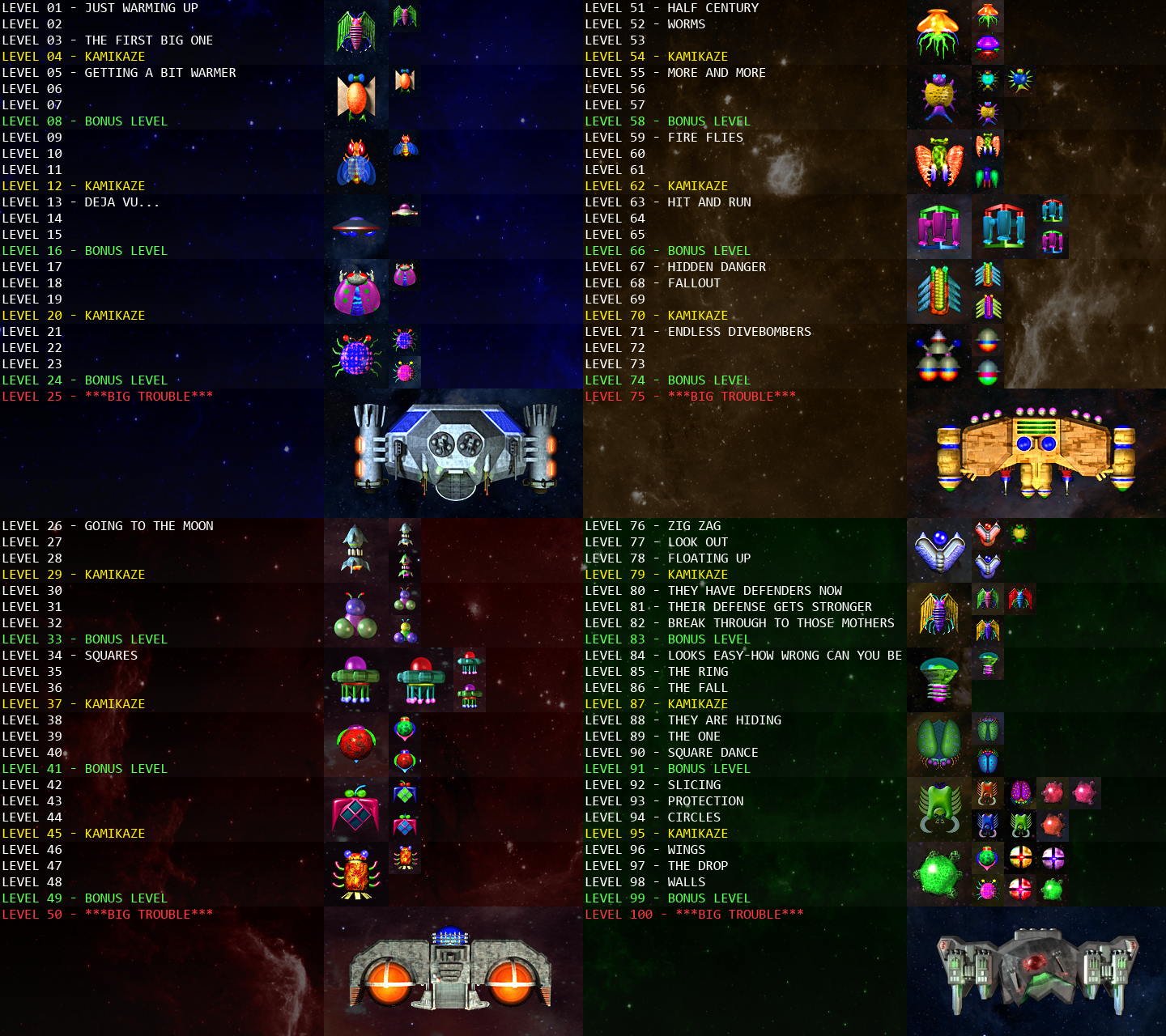 Levels List
Edit
Levels List

Level Name
Level 001

Level Number
001

Level Type
Normal (kill all)

 
Level Name
Level 002

Level Number
002

Level Type
Normal (kill all)

 
Level Name
Level 003 - The First Big One

Level Number
003

Level Type
Normal (kill all)

 
Level Name
Level 004

Level Number
004

Level Type
Kamikaze (hit & run)

 
Level Name
Level 005 - Getting a bit Warmer

Level Number
005

Level Type
Normal (kill all)

 
Level Name
Level 006

Level Number
006

Level Type
Normal (kill all)

 
Level Name
Level 007

Level Number
007

Level Type
Normal (kill all)

 
Level Name
Level 008

Level Number
008

Level Type
Bonus (hit & run)

 
Level Name
Level 009

Level Number
009

Level Type
Normal (kill all)

 
Level Name
Level 010

Level Number
010

Level Type
Normal (kill all)

 
Level Name
Level 011

Level Number
011

Level Type
Normal (kill all)

 
Level Name
Level 012

Level Number
012

Level Type
Kamimaze (hit & run)

 
Level Name
Level 013 - Deja Vu

Level Number
013

Level Type
Normal (kill all)

 
Level Name
Level 014

Level Number
014

Level Type
Normal (kill all)

 
Level Name
Level 015

Level Number
015

Level Type
Normal (kill all)

 
Level Name
Level 016

Level Number
016

Level Type
Bonus (hit & run)

 
Level Name
Level 017

Level Number
017

Level Type
Normal (kill all)

 
Level Name
Level 018

Level Number
018

Level Type
Normal (kill all)

 
Level Name
Level 019

Level Number
019

Level Type
Normal (kill all)

 
Level Name
Level 020

Level Number
020

Level Type
Kamikaze (hit & run)

 
Level Name
Level 021

Level Number
021

Level Type
Normal (kill all)

 
Level Name
Level 022

Level Number
022

Level Type
Normal (kill all)

 
Level Name
Level 023

Level Number
023

Level Type
Normal (kill all)

 
Level Name
Level 024

Level Number
024

Level Type
Bonus (hit & run)

 
Level Name
Level 025

Level Number
025

Level Type
Boss